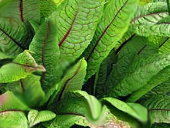 Scientific Name: Rumex sanguineus
Common Name: Blood Flower
Other Common Names: Scarlet milkweed, Bloody Dock, Silkweed, Indian root, Bloodwort, Bloody Wood Dock, Red-Veined Dock
Plant Type: Annual
Where To Plant: Full Sun to Partly Shady
Soil Types: Average
Zones (See US Zone map): Annual
Germination: Easy
Number of Seeds Per Pack: 50
Uses: Medicinal
Notes: Used to induce vomiting and to expel worms and as digitalis-like action on the heart.

Rumex sanguineus This is a beautiful red veined perennial herb with very dramatic foliage that is commonly used a ornamental plant to add interest to a vegetable or herb garden. A real attention getter even in a pot! It is a medicinal her used throughout the Mediterranean. The flowers are often used for dried flower arranging.

Order Bloody dock Rumex sanguineus on Amazon


*These seeds are being sold on Amazon. As an Amazon Associate I earn from qualifying purchases.

Any statement made concerning medical conditions treated with this herb is not intended as sound medical advice. The seeds are NOT to be ingested only planted. Herbs need to taken only with the guidance of a trained physician or established herblist.



Here is a sample of some of the herbs that we have.


Borage | Bronze Fennel | Brown Mustard | Buckwheat | Bupleurum | Burdock | Red Garnet Amaranth | Burnet, Salad | Butterfly pea | Button Bush | Calamint, Lesser

For full list visit our herb catalog by common names or scientific name.

JOIN MY HERBAL NEWSLETTER!


Hi, this is Larry Chandler. Owner of Sand Mountain Herbs. How would you like to join our informative herbal newsletter? The form is below to join. It is fun and informative... Trust me! I will personally guide you to herb gardening success and keep you posted on my latest herbs... no cost to join, so you have nothing to lose and have only herbs to gain!


I promise your email address will never be sold or given to any third party.






Order Bloody Dock Seed & Plants Online!
Are you looking for red veined dock plants or seeds online? Sand Mountain Herbs is one of the world's premier herb seed specialists in the world. We delight in carrying a wide variety of herbs like Rumex sanguineus bloody dock. We call it Bloody Dock (some people call it bloody sorrel) and we consider it one of our favorite ornamental herbs around. A lot of people love to eat the greens in salad as soon as they sprout in the spring, while others just love to look at the showy red veins in the leaves.

You can order bloody dock seedlings / bloody dock plants online here at Sand Mountain Herbs.com. The process is easy and Paypal is the payment process. No paypal account is necessary and we will get the plants shipped out asap. If there is any delay, we will notify you via email.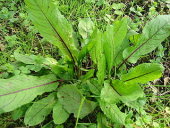 The bloody dock plant (Rumex sanguineus ssp.) is a very interesting herb because of its dramatic red veins. Anybody who grows bloody dock knows how strikingly showy this plant is with its reddish purple veins. Aptly named "Bloody Dock" it's large leaves are wide and proudly display their colors with there distinctive red veins.
We have Rumex sanguineus seeds that germinate really well. Try growing this interesting herbaceous plant in your backyard or garden and you won't be disappointed. Growth & cultivation is easy and it is easy to maintain from year to year as a hardy perennial. You can also order the Rumex sanguineus plant on the web here.
Rumex sanguineus is a perennial herb & is a very pretty ornamental. The Red vein bloody dock is a hardy plant that will catch the attention of anyone who walks through your garden. Keep in mind that it is a deeply taprooted perennial.
Culinary Uses of Bloody Dock
Want to eat Bloody Dock? Is it edible? Can you use it in a recipe? Certainly! It is a pot herb & culinary herb. Also known as Bloodwort, Bloody Dock has many culinary uses in the herbal kitchen. Can be uses as a salad green! The tender young foliage is used a lot like spinach. You can blanch it a few seconds in boiling water to really draw out the unique flavor. It is great used fresh in tossed salads.
Are There Any Problems With This Plant?
Some. The plants does have some issues with slugs and snails feasting on the leaves. Also it does get a little smut, rust, as well as some potential leaf spots. It is well worth it to get this plant started in your garden.
Medicinal Uses of Rumex sanguineus
Herbal medicine has used Bloody Dock in the past to help with cancer and blood diseases. It has astringent properties, especially in the roots. The roots can be used as an infusion that can stop bleedings. It is also used to treat several chronic skin diseases.
Growing Red Veined Sorrel (or Bloody Dock)

This herb grows best in areas where it can get plenty of heat & moisture. When it takes off, it will produce huge luxurious clumps of beautiful leaves.