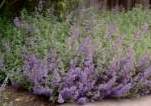 Scientific Name: Nepeta x faassenii
Common Name: Fassen's Catnip
Other Common Names: Cat-mint, Catmint, Catnep, Catnip, Inu-Hakka, Nebeda, Nepeta, Wild Kattenkruid, Yalanci Kediotu
Plant Type: Perennial
Where To Plant: Full Sun to Partly Shady
Soil Types: Average
Zones (See US Zone map): 3-9
Germination: Easy
Number of Seeds Per Pack: 50
Uses: Ornamental
Notes: Ornamental form of catnip.

NEPETA X FAASSENII. Supposedly, this herb renders timid people fierce, and the botanist Tournefort tells of a hangman who couldn't cut the mustard til he chewed a little catmint root. Blue catmint has large clusters of tiny flowers. Blossoms appear in April and continue through July. The blossoms are usually a blue color.

Price: $2.50/pkt

Any statement made concerning medical conditions treated with this herb is not intended as sound medical advice. The seeds are NOT to be ingested only planted. Herbs need to taken only with the guidance of a trained physician or established herblist.