Scientific Name: Agrimonia eupatoria
Common Name: Agrimony
Other Common Names: Common Agrimony, Cockleburr, Cocklebur, Stickwort, Church Steeples, Sticklewort, Philanthropos, Ackerkraut, Agrimonia, Funffing, Herbe de Saint-Guillaume, Liverwort, Stickwort, Acrimony, Harvest lice, Aigremoine, Odermennig, Agrimonia, Herba agrimoniae, Agrimoniae herba, Burr Marigold, & Garclive
Plant Type: Perennial
Where To Plant: Full Sun to Partly Shady
Soil Types: Average
Zones (See US Zone map): 5-9
Germination: Hard. Sow in Fall or 45 degree cold chill for one month.
Number of Seeds Per Pack: 25
Uses: Medicinal
Notes: Agrimony is astrigent, Hemostatic, Anti-inflammatory and Analgesic.

AGRIMONIA EUPATORIA Tea has great reputation as a wash for healing wounds and skin eruptions. Internally, tea is useful for liver, kidney and bladder problems. Difficult to germinate.

Order and sow in the Fall or winter.

Price: $2.50/pkt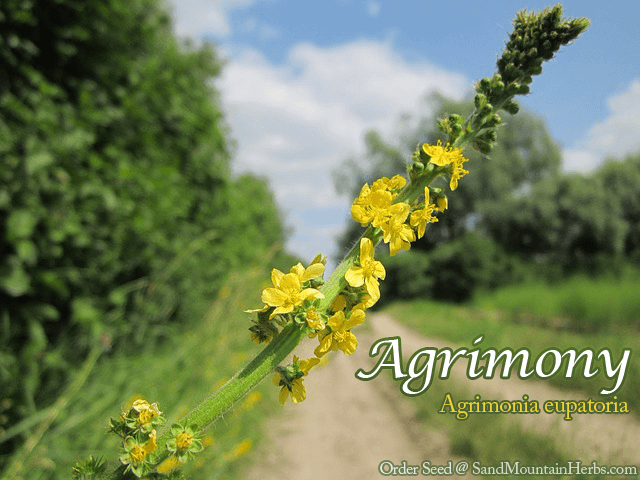 Any statement made concerning medical conditions treated with this herb is not intended as sound medical advice. The seeds are NOT to be ingested only planted. Herbs need to taken only with the guidance of a trained physician or established herblist.