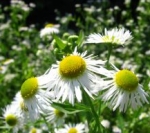 Scientific Name: Matricaria recutita
Common Name: German Chamomile
Other Common Names: German Chamomile
Plant Type: Annual
Where To Plant: Full sun
Soil Types: Average
Zones (See US Zone map): 3-9
Germination: Easy
Number of Seeds Per Pack: 100
Uses: Culinary
Notes: The name is Greek for "earth-apple" & "on-the-ground", due to its apple-like smell of the plant. The plant has small daisy-like flowers with white collars circling cone-shaped raised yellow centers. The flowers are less than an inch wide. In mass, it packs a punch of bright color!

(MATRICARIA RECUTITA) German chamomile has been called the "plant doctor" because it has been said to aid the growth of other plants around it. It is thought that it can increase the production of oils in mints and basil as a companion herb plant. In addition, a tea made from German Chamomile will hamper fungal growth. Many people swear by using its tea to water seedlings as a preventative measure to prevent seedlings from damping off. Medicially, people use it for a number of ailments. It is known as a gentle sleep aid, a mild laxative, and also helps a sore stomach. It is also used as an oral rinse against oral mucositis, or oral inflamation commonly seen in cancer patient undergoing radiation treatments. There are studies that suggests it even provides some cholesterol lowering effects. It also has been known to calm nerves to help people relax. In Europe, it is used in an ointment to sooth irritated skin. It is also famous for being able to lighten blond hair naturally.



Order German chamomile seeds on Amazon


*These seeds are being sold on Amazon. As an Amazon Associate I earn from qualifying purchases.




Tags: german chamomile seeds, order german chamomile seeds, growing german chamomile, german chamomile seed, buy german chamomile, grow german chamomile, how to grow german chamomile, growing german chamomile

Any statement made concerning medical conditions treated with this herb is not intended as sound medical advice. The seeds are NOT to be ingested only planted. Herbs need to taken only with the guidance of a trained physician or established herblist.




Here is a sample of some of the herbs that we have.


Queen Anne's Lace | Rampion | Rattlesnake Master | Rattlesnake-Master | Rauwolfia | Red Cockscomb | Red Lobelia | Red Sage | Red Valerian | Ribgrass Plantain | Roman Chamomile | Roquette | Rupture Wort | Sacred Green Basil | Sacred Lotus | Sacred Purple Basil

For full list visit our herb catalog by common names or scientific name.


JOIN MY HERBAL NEWSLETTER!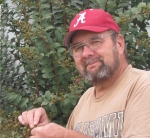 Hi, this is Larry Chandler. Owner of Sand Mountain Herbs. How would you like to join our informative herbal newsletter? The form is below to join. It is fun and informative... Trust me! I will personally guide you to herb gardening success and keep you posted on my latest herbs... no cost to join, so you have nothing to lose and have only herbs to gain!

I promise your email address will never be sold or given to any third party.