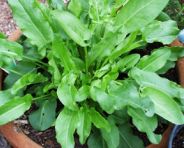 Scientific Name: Rumex acetosa 'Blonde de Lyon'
Common Name: Garden Sorrel
Other Common Names: Acederilla, acetosa, Acidula, Chuka Palam, Chutrika, Cizana, Common Sheep Sorrel, Common Sorrel, Kleiner Sauer Ampfer, Petite Oseille, Red Sorrel, Schapenzuring, Sheep Sorrel, Sheep's Sorrel, Sorrel, Sorrel, Sheep, Sorrel,Field, Sorrel, Sheep'S, Tangax Uqux, Wild Sorrel, Wilde Zuring
Plant Type: Perennial
Where To Plant: Full Sun to Partly Shady
Soil Types: Average
Zones (See US Zone map): 4-8
Germination: Easy
Number of Seeds Per Pack: 100
Uses: Culinary
Notes: Good in sorrel soups. Type used in France.

RUMEX ACETOSA. Most famous for Sorrel Soup. Large succulent. Slightly acidic, giving zest to salads. Remove flowers from top to keep plant leaves tender. Whole plant produces green and blue dyes.

Price: $1.95/pkt



Any statement made concerning medical conditions treated with this herb is not intended as sound medical advice. The seeds are NOT to be ingested only planted. Herbs need to taken only with the guidance of a trained physician or established herblist.