Scientific Name: Apios americana
Common Name: Ground Nut
Other Common Names: Earthnut, Groundnut
Plant Type: Perennial
Where To Plant: Full Sun to Partly Shady
Soil Types: Moist to Average
Zones (See US Zone map): 3-9
Germination: Easy
Number of Seeds Per Pack: 1
Uses: Culinary
Notes: Edible nuts when cooked. A small vine that can grow 5 lbs. of nuts a year. Favorite Indian food (Not shipped after April.) Medicinal.

AVAILABLE NOW! 2016 SPECIAL BULK RATE for Ordering Groundnut Roots
Price Per 5 Root Pack: $7.95

Order Here Online


-->

SOLD OUT

-->

SOLD OUT
BULK DISCOUNTS BELOW
Price Per 10 Root: $14.95

Order Here Online


-->

SOLD OUT

-->

SOLD OUT
Price Per 25 Roots: $25.95

Order Here Online


-->

SOLD OUT

-->

SOLD OUT
Price Per 100 Roots: $89.95

Order Here Online


-->

SOLD OUT

-->

SOLD OUT
Price Per 500 Roots: $399.95

Order Here Online


-->

SOLD OUT

-->

SOLD OUT
Price Per 1000 Roots: $769.95

Order Here Online


-->

SOLD OUT

-->

SOLD OUT
APIOS AMERICANA. Groundnuts are the only nut in the world that grows below the ground (peanuts are not nuts by the way!). The plant sends shoots into the earth and form pods. Allow this to develop for 2 months (the plant will turn yellow). It is a highly nutritious plant in that it has 2 1/2 times the protein of an egg (..which is considered by some to be the perfect protein). Only a few amino acids are lacking in the groundnut but milk has them and makes a good drink when you are eating groundnuts. Always chew this nut to a very smooth paste before swallowing or it will resist digestion. Roasting helps it to breakdown in the body too. Some people around the world use it to make a highly nutritious flour for bread. Known to help with people with diabetes and other sugar disorders. Just simply eat a handful before your meal and it helps to maintain sugar levels in the blood, and can further benefit by providing high levels of niacin. People with obesity can benefit also from this herb because it tends to curb appetite. Studies have shown it help in hemophilia. Also useful in diarrhea caused due to nicotinic acid deficiency. Eat the nuts with goats milk and a squeeze of lemon, and it will benefit the patient highly. The oil is good to put on the face before going to bed for acne prevention and nourishment.
Price: $4.95/root
Available Nov - May Yearly

Order Here Online



-->

SOLD OUT

SOLD OUT
Any statement made concerning medical conditions treated with this herb is not intended as sound medical advice. The seeds are NOT to be ingested only planted. Herbs need to taken only with the guidance of a trained physician or established herblist.




Here is a sample of some of the herbs that we have.


Lemon Eucalyptus | Leopard Lily | Licorice | Lime Basil | Loofah | Lovage | Luffa | Mammoth Basil | Manuka | Manuka | Marshmallow | Marshmallow

For full list visit our herb catalog by common names or scientific name.


JOIN MY HERBAL NEWSLETTER!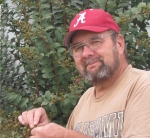 Hi, this is Larry Chandler. Owner of Sand Mountain Herbs. How would you like to join our informative herbal newsletter? The form is below to join. It is fun and informative... Trust me! I will personally guide you to herb gardening success and keep you posted on my latest herbs... no cost to join, so you have nothing to lose and have only herbs to gain!

I promise your email address will never be sold or given to any third party.