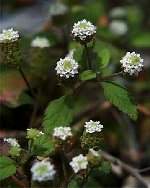 Scientific Name: Lippia dulcis
Common Name: Aztec Sweet Herb
Other Common Names: Aztec Sweet Herb, Lippa
Plant Type: Perennial
Where To Plant: Full Shade
Soil Types: Average
Zones (See US Zone map): 11-+ or pot plant
Germination: Medium
Number of Seeds Per Pack: 25
Uses: Medicinal
Notes: Mexican herb from at least the time of the Aztecs, used to treat coughs, colds, bronchitis, asthma, and colic. Plant 1000 times sweeter than sugar, has too much camphor content.

LIPPIA DULEIS (Lippia dulcis) Mexican herb used since at least the time of the Aztecs for coughs, colds, bronchitis, asthma, and colic. Leaves contain the intensely sweet compound hernandulcin (1000 times sweeter than sugar) but high camphor content makes them unsuitable for use as a sugar substitute. Fast growing, low creeper, with small white flowers; excellent in hanging baskets.


Order Aztec Sweet Herb seeds on Amazon


*These seeds are being sold on Amazon. As an Amazon Associate I earn from qualifying purchases.

Any statement made concerning medical conditions treated with this herb is not intended as sound medical advice. The seeds are NOT to be ingested only planted. Herbs need to taken only with the guidance of a trained physician or established herblist.




Here is a sample of some of the herbs that we have.


Aztec Sweet Herb | Baikal Scullcap | Balloon Flower | Balsam | Bayberry | Beardtounge | Beauty Berry | Belladonna | Betony | Bilberry | Bishopsweed

For full list visit our herb catalog by common names or scientific name.


JOIN MY HERBAL NEWSLETTER!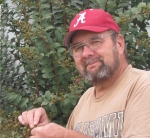 Hi, this is Larry Chandler. Owner of Sand Mountain Herbs. How would you like to join our informative herbal newsletter? The form is below to join. It is fun and informative... Trust me! I will personally guide you to herb gardening success and keep you posted on my latest herbs... no cost to join, so you have nothing to lose and have only herbs to gain!

I promise your email address will never be sold or given to any third party.