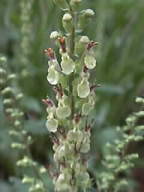 Scientific Name: Teucrium scorodonia
Common Name: Wood Germander
Other Common Names: Ambroise, Camedris, Camendrio Selvatico, Escorodonia, Gamander, Garlic Sage, Germander Sage, Germandree Sauvage, Hind Heal, Large-leaved Germander, Mountain Sage, Sadje Di Bwes, Sage-Leaved Germander, Sage-leaved Germander, Salva Bastarda, Valse Salie, Waldgamander, Wild Sage, Wilde Salie, Wood Germander, Wood Sage, Woodland Germander
Plant Type: Perennial
Where To Plant: Full Sun to Partly Shady
Soil Types: Dry stony soil
Zones (See US Zone map): 4-9
Germination: Easy
Number of Seeds Per Pack: 50
Uses: Medicinal
Notes: Spike of small, pale yellow flowers with sage-like leaves used as a tonic and appetite stimulant, as well as to brew ale.

TEUCRIUM SCORODONIA. Good for gout. Quits upset stomach.

Price: $2.50/pkt



Any statement made concerning medical conditions treated with this herb is not intended as sound medical advice. The seeds are NOT to be ingested only planted. Herbs need to taken only with the guidance of a trained physician or established herblist.