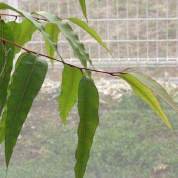 Scientific Name: Eucalyptus citriodora
Common Name: Lemon Eucalyptus
Other Common Names: Citron-scented Gum, Eucalyptus, Lemon Eucalyptus, Lemon Scented Gum, Lemon-scented Gum, Lemonscented Gum
Plant Type: Tree
Where To Plant: Full Sun to Partly Shady
Soil Types: Average
Zones (See US Zone map): 8-11 (Still good pot plant in colder areas. Just bring inside in winter)
Germination: Easy
Number of Seeds Per Pack: 25
Uses: Medicinal
Notes: Use like other Eucalyptus

Crushed leaves emit a delightful lemon scent.

Price: $2.50/pkt



Any statement made concerning medical conditions treated with this herb is not intended as sound medical advice. The seeds are NOT to be ingested only planted. Herbs need to taken only with the guidance of a trained physician or established herblist.